Very sad news yesterday from several BYC present and past club members.
Karon Zeidler Nelson who helped orchestrate many club events such as the favorite 'Blind Dinghy Race' and perform Secretary/Treasurer duties, passed away yesterday in Florida after a courageous battle with cancer. She and Barrett spent many full seasons on their boat Snow Goose slip B34 in the Apostle Islands Marina.

Barrett's address is 14134 Hickory Marsh Lane, Ft Myers, FL. 33912 for those of you wishing to send condolences.
BYC Members, the annual Dock Box Sale will be on July 1 from 8 to noon at the Museum. The Museum is a registered non-profit so donations are
tax-deductible, but please no electronics. Items can be brought to the Museum beginning on June 24. All of our members are volunteers and 100% of the of the proceeds go to the operation of the Museum.
In addition consider volunteering as a Docent. It is a rewarding experience and frequently you can meet some very interesting people with fascinating stories to tell. Bill Zishka of Mocha joined us several years ago.
Thanks, Jim Bryan President Bayfield Maritime Museum
Bob was an avid sailor and enjoyed helping fellow boaters. Services will be March 24, 2023.   Obituary notice. 
Brian Wilson, former BYC President (Commodore) has died. Brian Wilson helped organize the BYC & was our first BYC President. Obituary notice.
Everett passed on June 24, 2022.   View Obituary.
Sara and Brad Strandlund (Kim's niece and nephew) are hosting an informal celebration of life for Kim. It will be 1:00-4:00 on Saturday June 25 at the Rice Lake WI Elks Lodge, 36 E Eau Claire St., Rice Lake, WI 54868.
Please share.
Father of Cheryl Anderson on sailboat Gypsy on B Dock at Apostle Islands Marina passed away at the amazing age of 101. BYC's condolences to Cheryl, Brad and family.   View Obituary.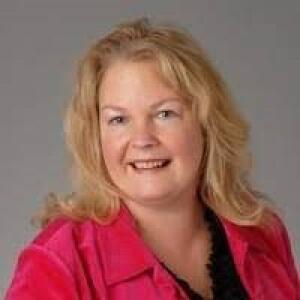 I am saddened by the untimely passing of past Bayfield Yacht Club Commodore Kim Strandlund on Saturday. Her boating friends remember her infectious laugh, hospitality and excitement for all things nautical. From her many years on Rehianna to the more recent Wellcraft 37 Essence (and the ever present inflatable) she loved ". . . messing about in boats." A quintessential fixture of the many Friday night Dock Parties, she was always quick to greet friends in the marina.

Kim's leadership skills were shared with other boating groups. She had previously served as Commander of the 500 member Minnetonka Power Squadron in 2004 working on boating classes and boating safety issues.

Kim was living in her family home in Rice Lake Wisconsin with her poodles. She had recently described looking forward to launching her pontoon this week! She had been dealing with some health issues and did not recover from cardiac arrest over the weekend. Kim had just celebrated her 61st birthday last month.

Frank and Marilyn owned the sailboat named Summer Place for 25 years.  Frank passed away on May 4, 2022.  Link to Obituary.




Erling Danielson longtime member of BYC and most recently aboard 'Swede Sailing' on C Dock in AIM, passed on May 14, 2022.  Memorial will be on Saturday 21st, visitation at 10:00 am, memorial at 11:00 am. Swedlanda Evangelical Lutheran Church, 220 5thSt W, Hector, MN.

Get up-to-the-minute data on Lake Superior in the Apostles Islands.  Check out a new and informative website for the Apostle Islands wind and waves from 7 live buoys. Get wave height, wind speed and water temp at 7 different locations in Chequamegon Bay & the Apostles.  https://infos.cee.wisc.edu/wisc-watch/index.php

(4.3.2020)

Sewage for Ashland, WI flowed into Lake Superior.  Read article.Are you doing 'The Great Loop' this year?   Off the coast of Georgia, they will be salvaging the shipwreck "Golden Ray" whose load was 4200 vehicles.  The salvage operation is mind-boggling.  Read the article from 'The Brunswick News'.

Jerry passed on January 13, 2020.  He was a long time BYC member; their boat was on the C Dock.  

Harry passed on January 5, 2020.   Read Obituary.



Yes, most of us know how to boat and keep yourself/crew safe while boating on Lake Superior.  This article will give you a glimpse how other people boat on Gitche Gumee. 

Southern Boating Magazine has an article on how to install LED lights on your boat.   The boat pictured below the article title will get you drooling!  Read article.All the Great Lakes are currently higher than last month and this time last year.   Peak water levels are expected.  Link to article written by Mark Torregrossa.
Darlene Staffeldt's mother passed away on April 29, 2019.  Memorial Service is May 4, 2019 at 3:00 pm in the Rose Room Chapel at Croxford Funeral Home.   Link to ObituaryWe've all been there -- pulling into the slip and it's time to dock the boat.   You are crossing your fingers you don't miss the cleat when you toss the line.  You miss the cleat, time is of the essence so that the boat doesn't slam into the dock.  You toss again and miss.   Watch this YouTube video on how to lasso the cleat. 

Lake Superior is 94 percent ice-covered as of Friday — the first time the largest Great Lake has had more than 90 percent ice coverage in four years. (Click here to read article.)




Wonder who thought up that question and also

did the research.   It's a few fun facts to pull out when sitting around the fire.

by Coastal

Living(click here to read article)



They're HUGE -- 6,000,000,000,000,000 gallons huge.

They are literally inland seas.

More than 40 million people (not to mention fish, plants and animals) rely on them.

They're 10,000 years young.

They are surrounded by the largest freshwater coastal dune system in the world.

They're full of mystery.
Detroit News published an article, click here.
US Army Corps of Engineers - Six Month Forecast Bulletin, click here.

Barrett's mother, Virginia Getty Nelson passed away on Saturday, November 24 at 10:30 AM at the age of 102. She would have been 103 on December 7. Oddly enough, Barrett had a hole in one at 11:30 AM eastern time. Virginia must have said "do me proud son" as she went up to be with Edward and Barrett's brother Philip. She will be greatly missed but at peace now.
Note: Obituary and funeral arrangements not available at time of posting on site.
A big thank you to our hosts Bill/Darlene and Richard/Meridy.  You guys sure know how to throw a breakfast party!  Bill Hooper provided photo.
Congrats! the water is flowing in the new fountain in Bayfield.   Looks awesome!
10/1/2018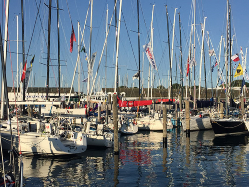 Season seven for Team Texana's Schock 35 out of Bayfield WI. It's been a long trip. The oldest kid, Austin Johnson, was 10 years at the beginning. At times it's been like a version of Willy Wonka and the Chocolate Factory, at other times a Chevy Chase Family Vacation movie, once in a blue moon it's been that scene from Wind - pick whichever scene comes to mind, we've seen them all.

Racing hard has always been important, sailing well has always been the goal. Results have always been second, but we've been lucky more than we deserve. Seven years of Raceweek, ATI's, racing and cruising the Great Lakes and Atlantic with no major boat damage or injuries has been my goal as skipper. Although I should note we are regulars at the Ashland ER thanks to bikes, fish hooks, skateboards, sunburns, and one emergency appendicitis. Bayfield can be a tough town.

Read more, click here.

A few members helped Brad celebrate his birthday at the BYC Club House on 6/30/2018.




Celebrating Tom's birthday during the 2018 BYC Annual meeting.  Wishing you another year of health, happiness and smooth sailing.   Other pictures from annual meeting.


We've all heard that seiches occur on the Great Lakes but a tsunami.   Here I thought tsunamis were only on the oceans. Experts say that tsunamis' do occur on the Great Lakes.   Read articleNational Park Service teamed up with Clemson University, NOAA Marine Debris Program to study plastic pollution.  Read article. The official ROAM (Reporting Offsite Arrival - Mobile) app allows boaters to present themselves for face-to-face inspection with a CBP Officier using Video Chat, for entry into the United States.  Learn more

Below are pictures of the Boardwalk at Halvor Reiten Park & Public Beach next to Blackhawk Marina. The boardwalk has been destroyed after last weeks storm (October 2017). Damage around town is still being evaluated - but the BYC clubhouse was not damaged.  Thanks to Jim Bryan for status updates and pictures.



Click on image to enlarge






| | |
| --- | --- |
| If you are ever in need of a person who enjoys heights, Abe White may be the person. , BYC 'intrepid' Commodore, climbs sailboat mast for inspection and repair |   |


Email the BYC Web Mistress with your news to post to our web site.







Did you know that Bayfield Yacht Club owns an AED?   It's located on the Pump House.  You pass it every time you walk out onto A, B and C dock.

AED Equipment at Bayfield Yacht Club