By Dallas Johnson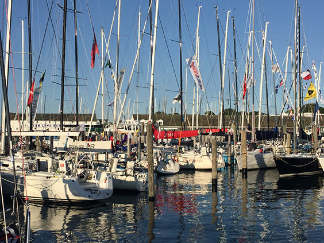 Season seven for Team Texana's Schock 35 out of Bayfield WI. It's been a long trip. The oldest kid, Austin Johnson, was 10 years at the beginning. At times it's been like a version of Willy Wonka and the Chocolate Factory, at other times a Chevy Chase Family Vacation movie, once in a blue moon it's been that scene from Wind - pick whichever scene comes to mind, we've seen them all.
Racing hard has always been important, sailing well has always been the goal. Results have always been second, but we've been lucky more than we deserve. Seven years of Raceweek, ATI's, racing and cruising the Great Lakes and Atlantic with no major boat damage or injuries has been my goal as skipper. Although I should note we are regulars at the Ashland ER thanks to bikes, fish hooks, skateboards, sunburns, and one emergency appendicitis. Bayfield can be a tough town.
This was finally our year for the Chicago Mac. We chose the Mac because of it's gentle downwind reputation vs the Trans Superior. First our Mac crew sailed the ATI (Around The Islands) race before RaceWeek earning our second podium placing in two years. Totally ready, right?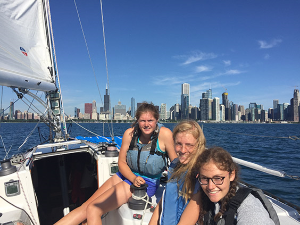 It's nearly 700 miles to Chicago from Bayfield on fairly congested waterways. Avalon Johnson (16) brought two friends and we made a trip of it stopping at Houghton, Marquette, Munising, Pictured Rocks, Whitefish Great Lakes Museum, the Sault, Detour, the island of pink ponies with brown fudge and horse manure, Leland MI, Sleeping Bear Dunes, and finally several days in boring old Chicago. This was also Texana's (aka: Little Chewy or Dunluce) first time leaving Lake Superior. I'd call this fast cruising, and the dirty secret of offshore racing is that deliveries are the best part.
If you haven't heard the news, the race was pretty challenging. Constant rain in the morning while we prepped, and two days of strong southerly breeze turning 180 degrees to a 200 mile fetch of stiff northerly breeze six hours before the start. The wave action was not kind, and even the best of sailors struggled.
During the first hours of the race the radio chatter was constant with retirements, MOB's, and pan pan pan announcements. The three adults on the boat were grim faced, knowing that we were at a point with precious few safety reserves left. The slamming wave action made motion on the deck difficult, sea sickness a constant threat, mechanical failures likely, and green water constantly shipping over the bow into the cockpit. We decided to carry on, but expected to turn downwind and run for cover once darkness approached.
Honestly the kids were having a blast. Our fordecker Sam was bummed about our spinnaker free weather forecast, but otherwise doing great. They couldn't hear the ugly radio chatter and loved the roller coaster ride and fire hydrant coming from the bow. It was apparently hilarious to see child X's vomit spew over the entire downwind crew only to be washed off with the next wave. Good Times!
It reminded me of cruising across Lake Superior in ugly weather with sea sick mom on deck and the the kids down below with cushions on the floor turning the cabin into a giant moonwalk bouncy room.
At dinner time (granola bars) I polled the kids. Our upwind watch system included the option of being downstairs in shelter...as long as you stayed to windward! The adults were a little on the edge. The waves had spread out a bit, people were finding a groove, but night sailing is a whole other ball game. I was stressed over the negative MOB reports on the radio. Our third adult, Neil, was on hour six of what would be a 26 hour on deck watch to avoid sea sickness.
But the kids were alright. The more reality we put in front of them, the more they rise to the challenge.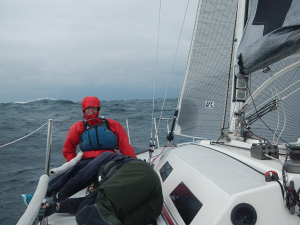 I finally got to the last kid, up on deck, strapped in, sleeping with his head hung over the rail with Avalon keeping him company. "Griffin, how you doing, do you want to sail through the night"? Griffin gives me a thumbs up. I smack him on the rear "No Griff, I need eye contact-proof of life, how you doing?" So Griffen sits up, turns around and gives a big smile with two thumbs up "heck ya, lets go". Unknown to Griffin, he had a clown like 2" ring of yellow vomit pasted around his mouth that even the waves couldn't wash off. I've been sailing for 25 years and never seen that level of enthusiasm. How could we stop.
Delivery: Avalon, Grace, Naomi, Dallas
Race: Austin-17, Avalon-16,Sam-14, Griffin-16. Adults: Dallas, Scott, Neil
Return: Sam, Scott, Dallas
Ground Crew: Chris Bell, Amy Johnson, Hayden, Andrew, and the mighty 'burb.
More @
TeamTexana on Facebook
The J22 World Champs to be raced Sept 10-14 Hosted at the newly renovated Annapolis Yacht Club, there are currently 66 boats registered, including 6 from WYC.
See who they are and follow the results.