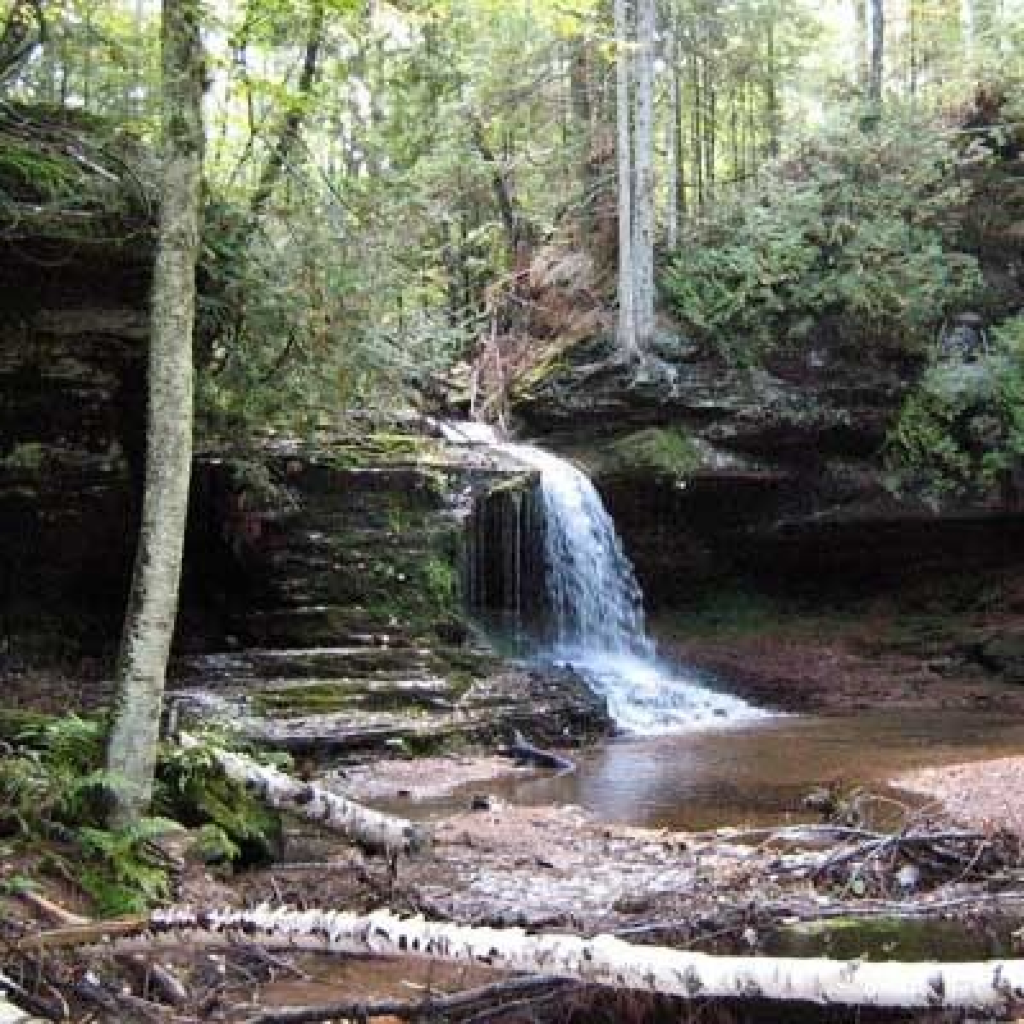 Waterfalls, cliffs, sea caves, and Lake Superior views. What could be better?! Make hiking part of your next adventure in Bayfield and the Apostle Islands. Don't forget to share your hiking pictures with us! Just use #bayfieldwi.
Bring your camera for this one! Explore the cliffs above the mainland sea caves. A natural bridge and the first of several sea cave overlook points is 2 miles from the trailhead. This trail is a rugged path for use by experienced hikers, with stream crossings and steep slopes along the way.
Difficulty: Moderately Difficult
Trail Length: Only the first 3 miles is currently open. The National Park Service is hard at work cleaning up downed trees from a windstorm on the remainder of the trail.
Directions: Meyers Beach is located 17 miles NW of Bayfield, right off of State Highway 13. The trailhead is located at the Meyers Road parking lot.
Lost Creek Falls is a very scenic waterfall located in the woods south west of Cornucopia. The falls consists of an 8' plunge with a few feet of cascades above and below the plunge. You can walk behind the falls, which is not common for waterfalls around Lake Superior. There is a small 3' cascade a short distance downstream of the main waterfall.
Difficulty: Moderate
Trail Length: 1.5 miles
Directions: Just south of Cornucopia. From County Highway C, turn on Trail Drive and travel .5 miles to the parking area and trailhead.
Houghton Falls protects a picturesque pre-Cambrian sandstone gorge along the Lake Superior shore. The dramatic sandstone cliffs extend into the clear waters of Lake Superior, affording views of the Apostle Islands. The waterfall flows seasonally, but the gorge is worth a view any time of the year.
Difficulty: Easy
Trail Length: 0.75 miles
Directions: Located 3.5 miles north of Washburn. Turn on Houghton Falls Rd. and drive .5 miles to the parking area.
A favorite of local residents, and just blocks from downtown Bayfield. Scenic overlooks with multiple routes and trail systems.
Difficulty: Moderate
Trail Length: 1.8–2.45 miles
West Side Directions: Follow 4th Street uphill from Downtown Bayfield. Turn left on Sweeny and park at the baseball field. The trail begins behind the outfield fence.
East Side Directions: in the Town of Bayfield, approximately 1/3 mile east of the intersection with Betzold Rd. There is a kiosk at the trailhead.
A scenic trail following an old railway corridor. See brownstone cliffs and Madeline Island as you walk along the shore of Lake Superior. A 2018 landslide has closed the trail between Seagull Bay Motel and Lakeshore Drive, so start your adventure from Lakeshore and hike the trail to Pike's Bay Marina.
Difficulty: Easy
Trail Length: 2.1 miles
Directions: Start your hike at Lakeshore Drive, just across the highway from Eckels Pottery 1/2 mile south of Bayfield. Hike south to Pikes Bay Marina.

Hiking information courtesy of
Bayfield Chamber of Commerce